About Zoshigaya Kodomo Station
A new space for children and families opens on 3 June 2017 in Zoshigaya, Toshima-city.
Zoshigaya Kodomo Station runs a rich and exciting program of art and culture events for children and families. They provide engaging, fun and an informal space for families to enjoy together. Children and adults can experience a diverse range of artist-led workshops. Our programs are initiatives to encourage people of all nations, abilities and areas of interest to engage with art, music, dance and play.
Organizers: Toshima city, NPO Children Meets Artists
Visitor information
Map & Direction
By train
・0-minute walk from Tokyo Metro Fukutoshin Line "Zoshigaya Station(F10)" Exit 2
・2-minute walk from Toei Streetcar (Toden) Arakawa Line "Kishibojimmae"

〒171-0032
B1 of Zoshigaya regional culture creation hall, 3-1-7 Zoshigaya, Toshima city, Tokyo
Contact
Telephone: 03-5906-5705 (week days)
Fax: 03-5906-5706
Email: zoshigaya-ksta@children-art.net
For
For children and families. Suitable for children 0 to 12 (*) .(no experience necessary)
* Age groups may vary with programs.
* All children must be accompanied by a parent/guardian.
* Adults who are not accompanying children will not be admitted.
Booking information
Booking required (first-come basis).
>> Book Now!
Capacity
10 families for each program
Price
\500 (1 adults & children).  Extra children & adults \200 each.
Notes
* Please come 15 minutes before the start time.
* Families are welcome to stay afterwards till 14:00. (There are no food shops but vending machines. You can bring your own lunch and snacks.)
* We wellcome all the families and abilities. Please let us know if you have any access requirements from the booking form or email 'zoshigaya-ksta@children-art.net'.
* Programs are conducted in Japanese.
Programs
* Programs continue during the year. We'll inform you about the schedule from September as soon as prepared. Workshops No1 ~ 4 will be held once a month each, and it will be apploximately 10 days through the year (till March 2018).
* You can book only one day either multiple days.
1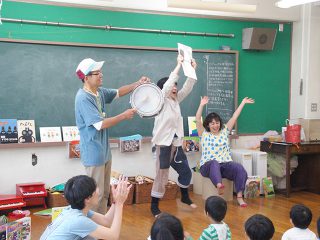 Picture Books Workshop Book Now !
Interactive, creative, and fun storytelling for babies and toddlers led by EPONS whose members include actor & actresses, dancers, musicians etc. They will read picture books with lively action, music, and movements to introduce your little ones to the new world of picture books. Come and join!
Date: Saturday 3 June, Sunday 23 July, Saturday 26 August
Time: 11:00~12:00
For: Families with pre-school children ages 0 to 6 (free for 0 to 1)
* 2 or 3 members of EPONS will come each day.
2

Family singing workshop led by singer and songwriter Ohiro Minato. The workshop will include warm up exercises and the chance to experience a variety of songs. Let's sing world folk songs, jazz, blues, artist's original songs and more!
Date: Sunday 25 June, Sunday 2 July, Sunday 20 August
Time: 11:00~12:00
For: Families with children ages 5 to 12
3

Music workshop led by percussionist and improvised musician Yusuke Kataoka. Adults and children are invited to move and groove along, explore new sounds and songs, and get up close to the instruments of this small and playful orchestra. Let's play drums, marimba, bells, other percussive instruments, and even toys!
Date: Sunday 11 June, Sunday 9 July, Sunday 27 August
Time: 11:00~12:00
For: Families with children ages 5 to 12 (no skills and precious experience necessary)
4

Family dance workshop led by contemporary dancer Anna Irite. This family friendly and creative dance workshop will introduce the whole family to the joy and interest of dance by exploring fun movements, shape, and space.
Date: Sunday 4 June, Sunday 16 July, Sunday 6 August
Time: 11:00~12:00
For: Families with pre-school children ages 4 to 6 (no previous dance experience needed.)
* Please wear loose and comfortable clothes that are suitable to move in.
5

This seasonal programs led by theater artists. This summer, we will present two events below.
'The Family of Fourteen Fix Breakfast'
A play unit Drop will lead this program inspired by one of the very popular picture book series The Family of Fourteen written by Kazuo Iwamura. Families will create a bird call and do some exercise before reading to engage with the story. Then enjoy and join storytelling by the artists.
Date: Saturday 24 June
Time: 11:00~12:30
For: Families with children ages 4+
'Loudmouse'
A play unit Henteco Drop will lead this workshop and performance inspired by 'Loudmouse' written by Richard Wilbur. Before the performance, families will create a megaphone with which you can join the play. During performance, let's make fun noise like a LOUDMOUSE dose!
Date: Saturday 29 July
Time: 11:00~12:30
For: Families with children ages 4+
6
Petit Live
Coming soon.
7
Others
Coming soon.